AphexHQ
Proud to Support The Lighthouse Construction Industry Charity

If you work in construction, you'll know all too well that things can get tough.
When those times come, The Lighthouse Construction Industry Charity is there to help. They are an incredible non-profit organisation that aid construction industry workers and their families.
Aphex have been a proud to support Lighthouse in 2022. And we feel it's important to shed some light on who they are and why their work is so important.
More than ever, we encourage you to share this post with anyone you think it might interest.
What is The Lighthouse Construction Industry Charity?
Lighthouse were first established in 1956 and are dedicated towards the welfare and support of people in the construction industry and their families.
I'm sure you'll agree that construction is an enjoyable and rewarding industry. But it is not without its difficulties and hardships. Unfortunately, those difficulties hit some of us in hard and seemingly cruel ways.
Every year in the UK and Ireland alone:
39 people die on building sites
Over 82,000 people report new long-standing illnesses related to construction work
More than 2000 people have major accidents which incapacitate them
46% of cancer cases are directly attributed to construction work
2.4 Million man-days are lost due to construction-related incidents and illness
And that's not to mention that all of this takes a tremendous toll on mental well-being. Stress, anxiety, and depression account for 20% of all work-related illnesses.
Worse of all…2 construction workers take their own lives every working day.
These numbers are simply unacceptable.
Fortunately, if you find yourself in need of help, you don't have to be alone. The Lighthouse Construction Industry Charity can offer advice and support.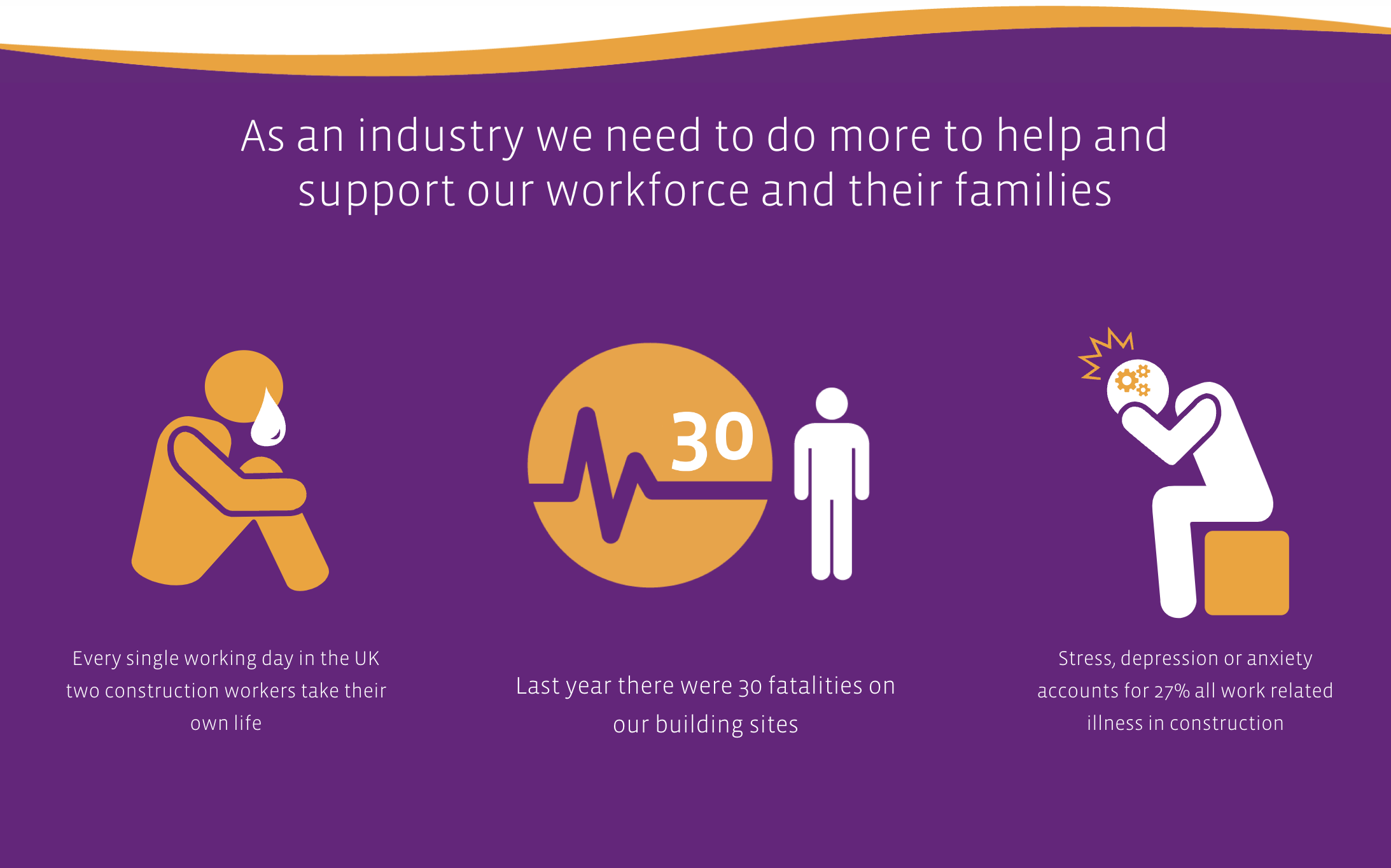 (Image Source:https://www.lighthouseclub.org/)
How does Lighthouse help?
Lighthouse has various services designed to support construction workers with the three major categories of emotional, physical, and financial well-being. All things which make up you're whole mental well-being.
The services available to construction workers include:
Construction Industry Helpline
A 24/7 helpline is available to anyone in the construction industry, completely free of charge. You can call the helpline any time, day or night, and someone from Lighthouse will be on the other end to offer support.
The helpline is available in the UK and Ireland, and Lighthouse has translation services available for approximately 22 languages (at the time of writing).
UK: 0345 605 1956
ROI: 1800 939 122
Text HARDHAT
Text Hardhat is similar to the construction helpline in that it offers 24/7 support to construction industry workers.
This service is for anyone who wishes to use the helpline but would prefer a confidential chat via text rather than calling someone and speaking in person.
To make use of the text service, text HARDHAT to:
UK: 85258
ROI: 50808
Construction Industry Self-help app
A free, downloadable app that provides access to helplines, coping strategies, and other related organisations that might interest those in need. It's been designed as a self-help tool that provides tips and lessons in mental health first aid.
Masterclasses
One-hour-long, CPD-accredited mental health awareness training carried out by a mental health professional in an online classroom. These Masterclasses aim to educate people on anxiety, financial management, and managing stress.
Lighthouse Beacons
In addition to their virtual services, Lighthouse has relationships with over 160 physical drop-in centres across the country where you can talk to like-minded people.
Help Inside The Hard Hat On Site
As well as the drop-in centres, Lighthouse has partnered with Ford and put together a series of tours. During these tours, construction workers trained in mental health first aid have been driving around, visiting construction sites, delivering training, and providing support to those in need.
To find out more about the services Lighthouse provide in the UK and ROI, visit https://www.lighthouseclub.org/
The Lighthouse Construction Club Australia
For those of you based in Australia, it's well worth checking out the work the Lighthouse Club is doing. Lighthouse Club was established in Queensland in 2011 and also provides help to those in need in the industry.
In addition to a hotline and mental health support, the Lighthouse Club Australia provides educational bursaries to young people from disadvantaged backgrounds for construction-related courses.
You can find out more about the Lighthouse Club Australia at https://www.lighthouseclubaus.org/.

(Image source:https://www.linkedin.com/company/lighthouse48734691237/posts/?feedView=all)
Aphex and Lighthouse
Aphex are proud supporters of Lighthouse, we attempt to help them raise awareness by including them in our marketing content, and we hold charity days to try and support them financially. Earlier this year, we raised funds by taking on the Four Peaks Challenge.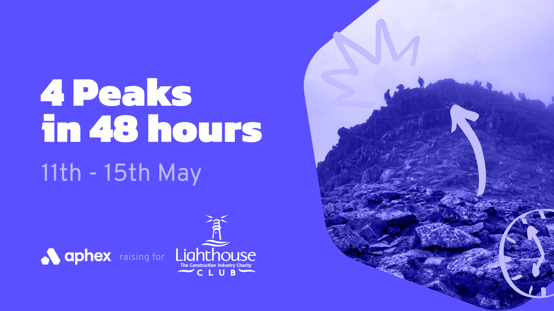 When we sat down to write this article, we asked Aphex CEO Carlos Carvalho what it was about Lighthouse that made him want to support them. Here's what he had to say...
"I still remember the presentation Lighthouse gave our team on Crossrail. The statistics around suicide in construction were truly shocking.
It's awesome that I can now influence real support for Bill and the Lighthouse team, who are delivering such a crucial service to our industry."
All of the team at Aphex share that same sense of shock around those statistics, and we are incredibly proud to be supporting Lighthouse.
How can you help as an Individual?
In their video about the Why, What, and How of Lighthouse, Bill Hill explains that individuals can help tremendously by spreading awareness on your project.
One of the easiest ways to do this is by placing posters, stickers and such from their Industry Helpline Packs around your site.
How can you help as a business?
The best way to help as a business is to get in touch with the team at Lighthouse and make an annual pledge. According to that same Why, What, and How video (mentioned above), pledges do not need to be for any particular amount and should be based on what you feel your business can pledge.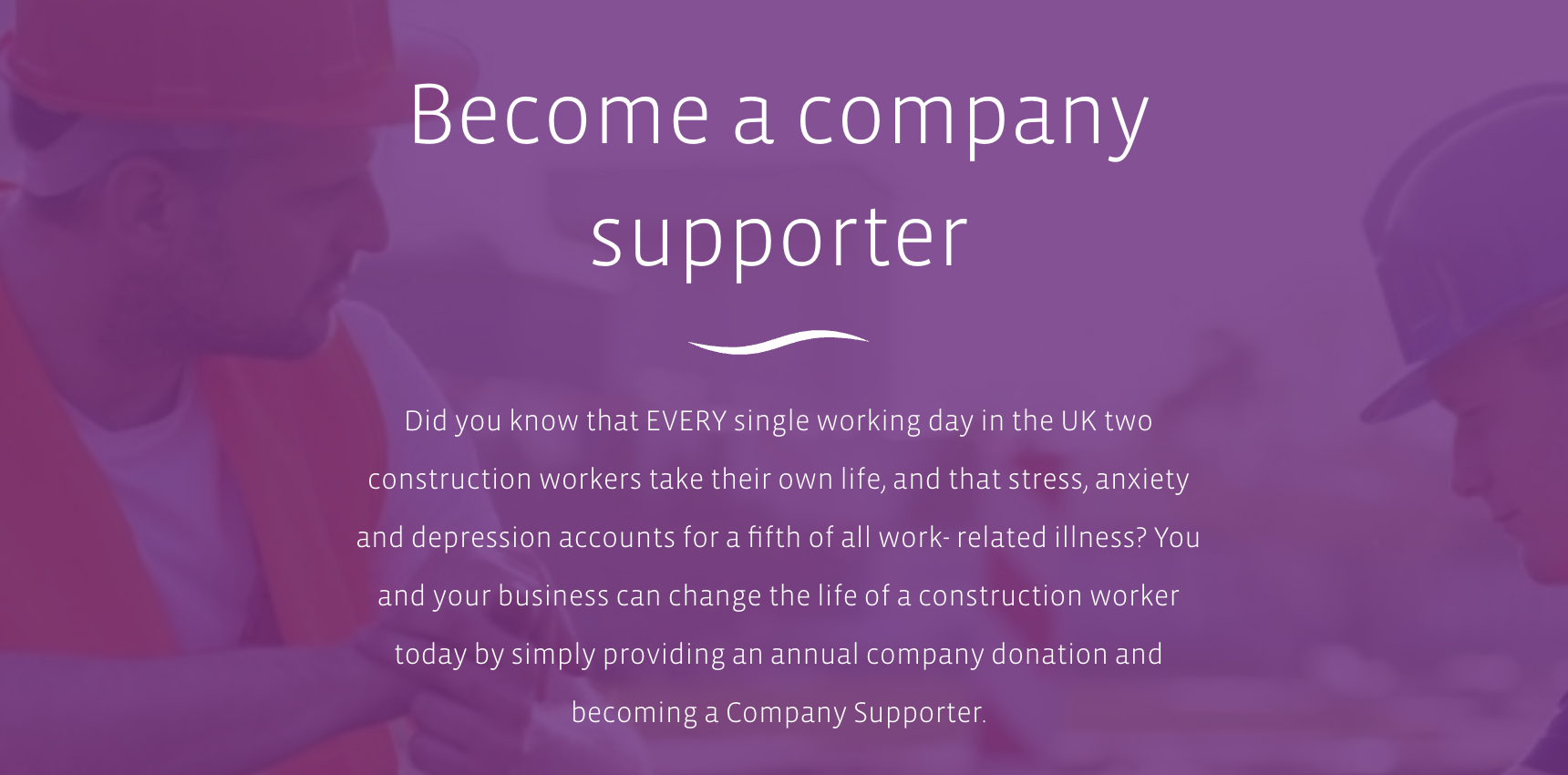 (Image Source:https://www.lighthouseclub.org/)
Business supporters also get access to a range of additional benefits, such as:
A 'Road to Wellbeing' five-step action plan
Management training (CPD accredited)
Wellness Champion training and support
Critical incident support
Hard Hat 'Heads Up' (a monthly newsletter)
Company supporter resource hub
To find out more about supporting Lighthouse, visit https://www.lighthouseclub.org/.