Product
Introducing Aphex Insight 2.0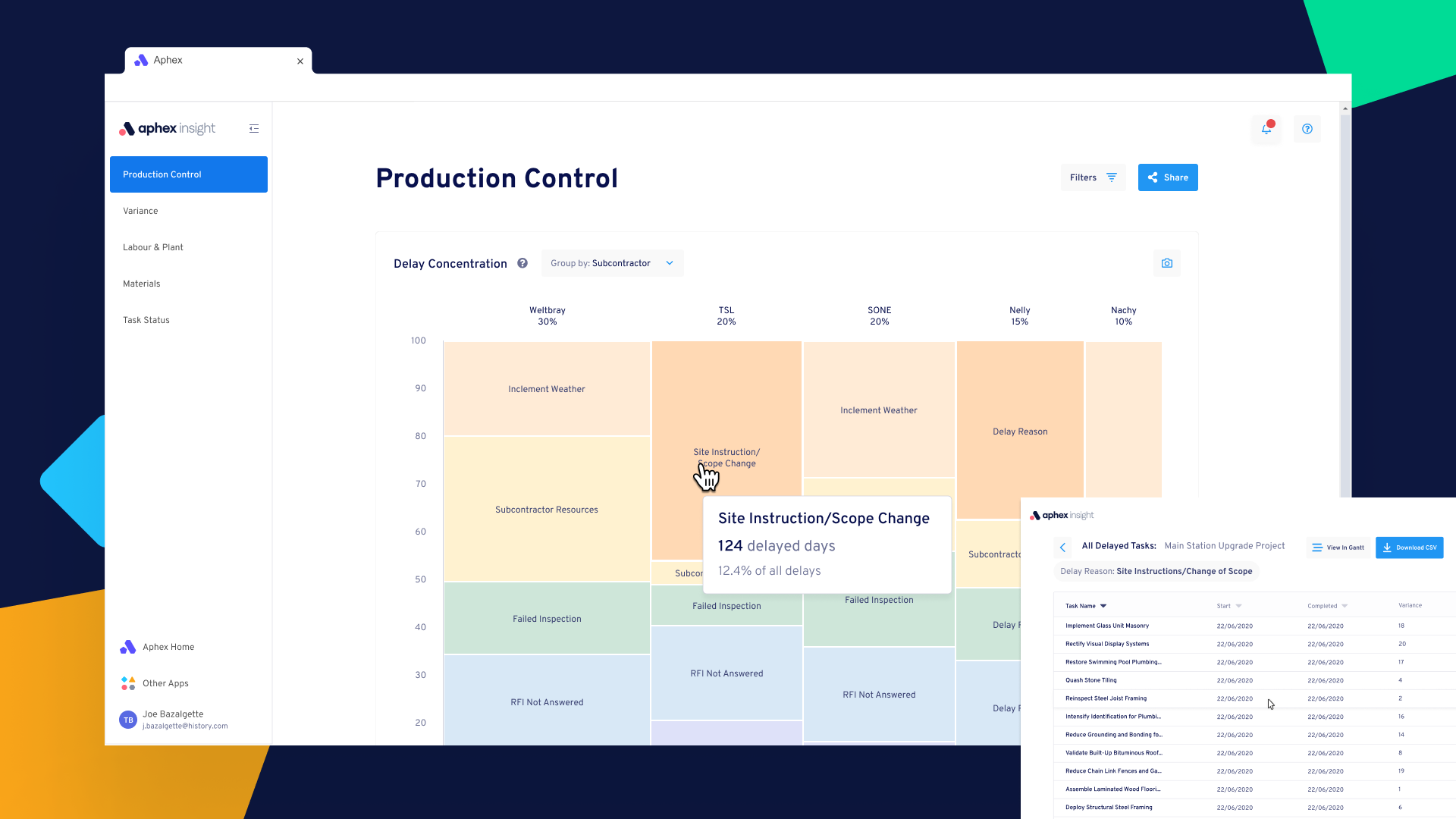 Today our team launched the second iteration of our reporting and analytics app, Aphex Insight. Insight 2.0 is a complete rebuild of our first MVP version and is a realisation of hundreds of user generated requests and many long hours of our team. Below, Aphex's COO and Product Leader Jason Lancini shares a bit about why we built Insight.
A lot has changed in construction technology over the last few years. Drones, robots, AI... companies everywhere are on a mission to digitise construction. But, when we talk to our customers, the people actually building the infrastructure around us, a surprising amount of their days looks like they did five or even ten years ago (although more of it happens in sweatpants now).

The established trend of increasing project complexity and size has tested the capacity of project teams and managers to keep more and more concurrent plates spinning. Put simply, in construction, every day it gets harder and harder to be across the work thats happening and the issues that are causing site delays.

We saw that our customers, faced with this challenge, take logical action. They implement process, dashboards and meetings. They look for ways to surface the issues that need attention. And this is where things start to look nostalgic... as their teams look to exports from disconnected systems and tedious spreadsheets wizardry to get their data into charts and dashboards that can communicate their project's performance.

Seeing this, we started exploring ways to harness the data generated in Aphex from thousands of engineers every day and distill the key insights for our customers. If we could do that, we figured we could at least save a bunch of planners a lot of hours of spreadsheet wrangling. But, after investigating further, we realised that producing relevant reports was only half of the problem. In fact, we saw that the major factor limiting the efficacy of legacy reporting was the time delay - in the moment that course correcting action needs to be taken by project teams, the data is still being formatted in a spreadsheet.

We realised that truly impactful data needed to cut out the middle man, and be available in a clear and simple way to the people that need it. And so, we set ourselves a goal to build out our reporting and analysis app, Insight, to give everyone on a project a way to instantly understand what happened, what didn't, and what has, is and will cause project delay.
Seeing this, we set ourselves a goal to rebuild our reporting and analysis app to give everyone on a project a way to understand what happened, what didn't and what has, is and will cause project delay.
Insight 2.0: Where everyone understands what happened
That's why we built and rebuilt Insight, a reporting app for everyone on the project. Think of it as the simple project dashboard that's always up to date and accessible by everyone. It's for project managers to keep their finger on the pulse, for engineers to step back and see the bigger picture and for planners to build and share reports quickly.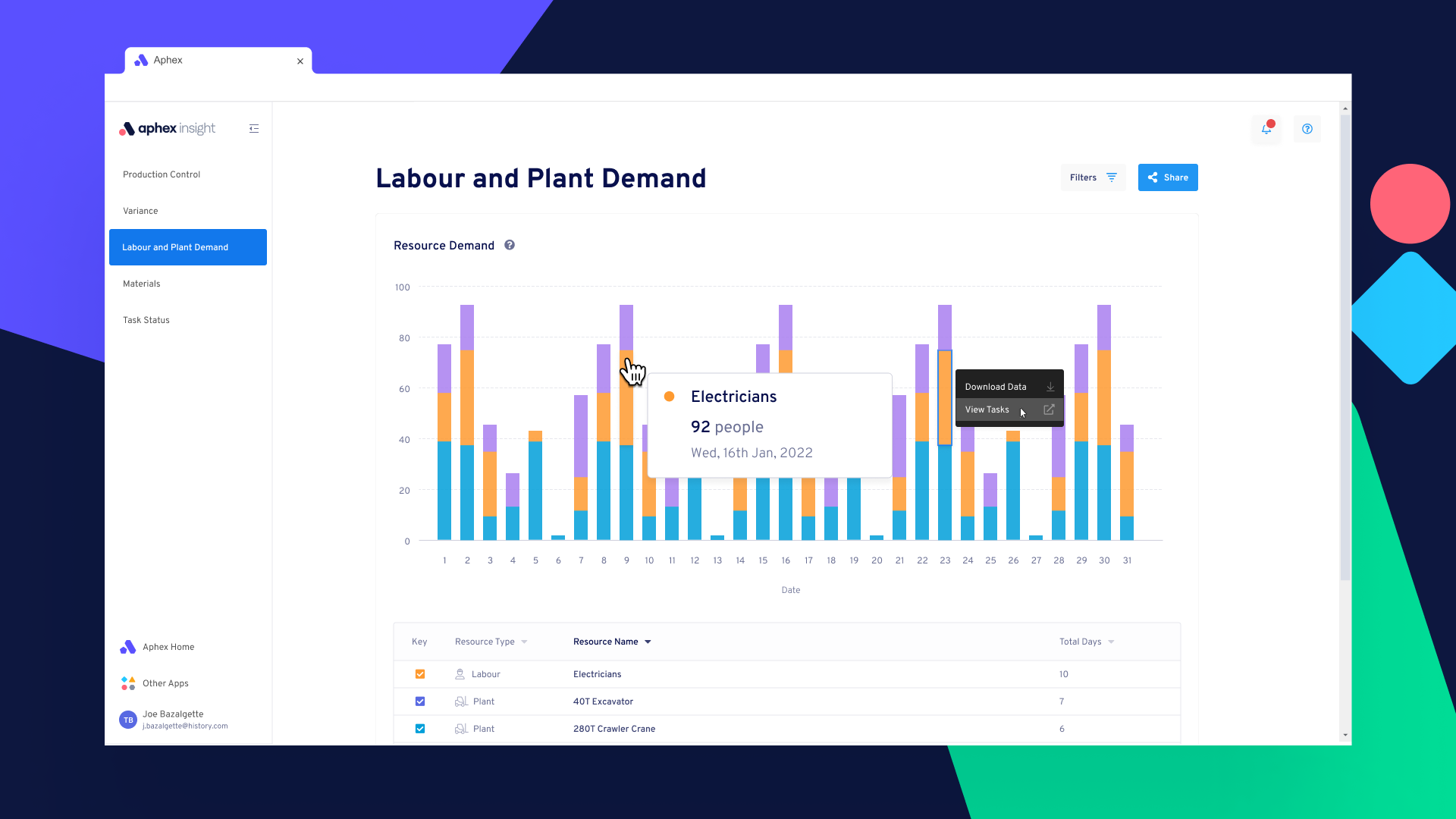 As a platform we remain entirely committed to making project data accessible to our customers to power deeper analysis through our API's, raw data export and Power BI connector. Insight 2.0 is about distributing simplified insight to the same teams that are accountable for outcomes on a project.

We have built a ton of functionality into Insight to make it a great place for engineers and project managers to take action from data. Beyond standard chart manipulation and filtering, every report can be inspected to reveal the actual tasks driving it... and those tasks in turn can be opened directly from the Insight app. Teams can go from the big picture to the detail without having to switch context, platforms or reports.

Insight is also designed for collaboration. At any point that a user uncovers a new perspective that they want to share with a colleague, sharing the report URL will allow them to pick up exactly where that initial user left off. We bid farewell to static screenshots.
We want to give as many teams the ability to access good data to make good project decisions. So, starting today, Insight 2.0 is available to all users on all of our paid plans at no additional cost. Users on our free plans can also request access to a free trial upgrade to Pro.
We hope you will check out Insight and that it can form part of your toolkit. If you do, let us know what you think, because our goal is to give every team the tools to make their plans happen.