Product
What's New in Aphex: April 2023
Whopper of an update this month! We're pumped to share the release of your most requested feature, ever.

A total change to how you edit and build plans - with the new multi-select menu you can make heaps of changes at once, copy sections of the plan and instantly link any number of tasks together, and that's just the beginning.

We've also made some neat updates to the look and feel of the Gantt, like personalising row height and clever notifications.

And not to be overlooked, we've redesigned the Resource Overlay to make it even easier to forecast resource demand across your project.
New, quicker way to build and edit plans
1. Multi-Select: Edit
The Edit Properties option in the new Multi-Select menu allows you to make changes across loads of tasks at once, without mucking around with opening columns or cells.
And you don't have to worry about editing someone else's task by mistake - even though you have the freedom to select any task in the project, a selected activity will only be updated if you have permission to edit the task.
2. Multi-Select: Duplicate
You can now also Duplicate multiple tasks in one go. Perfect if you have repetitive work, and don't want to have to start from scratch each time - you can now copy entire sections of the plan!
To keep things simple, Duplicating multiple tasks follows the same rules as Duplicating an individual task - so as long as you're an Admin or Owner/Delegate of a selected task, you'll be able to successfully duplicate the task.
3 - Multi-Select: Create Links
Alongside Edit and Duplicate, you can now create and re-order links between your selected tasks.
The 'Link' option brings up a new Create Link window allowing you to drag and drop your selected tasks (and set the link type) to make sure the sequence is in the right order.
To make sure things stay tidy, the links configured in the Create Links window will replace all existing links between your selected tasks. Oh, and we've also added built-in circular logic detection and user permission checks to give you total confidence that the links you're creating are valid.
4 - Multi-Select: Delete
If you ever need to clear out data in your project, the new Multi-Select Delete option allows you to get this sorted in record time.
And don't panic about someone going rogue - users will still only be able to delete a task if they own it, or they're an admin!
5 - Multi-Select: Convert to Tasks
Finally, if you have a bunch of Subtasks that you'd like to remove from their Parent and be stand-alone tasks, you can use the Convert to Tasks in the new Multi-Select menu
New Resource Demand Overlay
Up next is a new way to see Material, Plant, Labour and Subcontractor distribution, forecast demand, and track under or over-allocation of resources in your plan.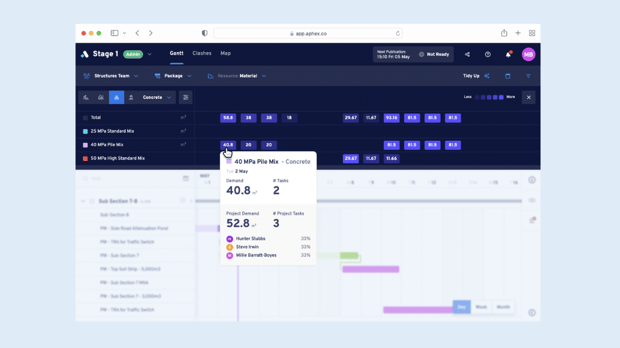 1. See demand by Resource
Choose to see the resource demand for either Material, Plant, Labour and Subcontractor (new)
2. See demand by type
After selecting a resource, you can now set the Overlay to just show the demand for a specific resource type, such as all Material > Concrete types, or only Labour > Crew types.
3 - Hover for more information
By default, the quantities you see for each resource row will be the exact amount needed for the tasks in your specific view of the Gantt. Hovering each amount will also show:
- The exact amount needed across your whole project, not just for the tasks in your view
- The breakdown of users who own the tasks that require the resource
You can switch from the default option 'Displayed Task Utilisation' to show the project amount by toggling on 'Project Utilisation' instead.
4 - Optimised for Day, Week or Month view
We've designed the Overlay to be as flexible and customisable as possible. So alongside being able to choose the exact type of resource data shown, you can also resize the Overlay and switch from Day view to Week or Month without impacting your ability to forecast demand.
Gantt Improvements
The Gantt has received some pretty serious TLC. There are plenty of simple-but-delightful updates to discover, and we'll share a couple of our favourites.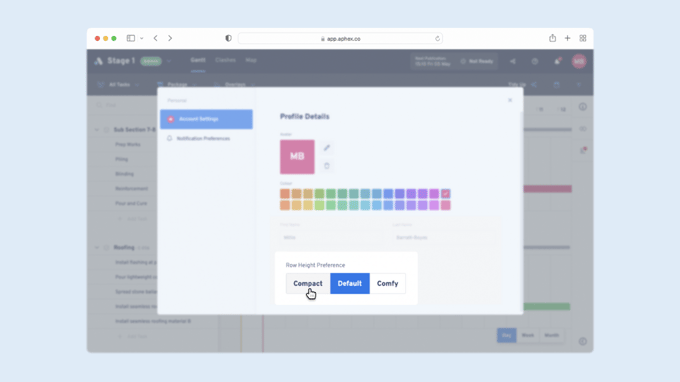 1 -
Row Height
Row height can be made bigger or smaller. We'll remember your choice on the live plan, published versions and PDF printouts too!
You can now change from the Default height to Comfy or Compact from your User Settings.
2 -
New Notifications
And finally, notifications are way smarter. Now that you can make plenty of changes at once, we wanted you to have feedback on the exact action you took, and if it was successful or not. Oh, and the Undo Button should keep a lid on any accidents 😇