Product
What's New in Aphex: December 2022 + January 2023
As we roll full steam into 2023, we've been busy bees at AphexHQ and we have loads to catch you up on!

We're stoked to share that one of your top requests is finally here - now you can import plans directly from excel into new Aphex projects. Boom 💥

Continuing strong, we've released a new two-step reviewing plans feature. Perfect for teams who need to approve plans before they head out the door.

And it doesn't stop there! New WBS management, project routine settings and a spanking new notification centre are all ready for you to try, right now.
Review and Approve Plans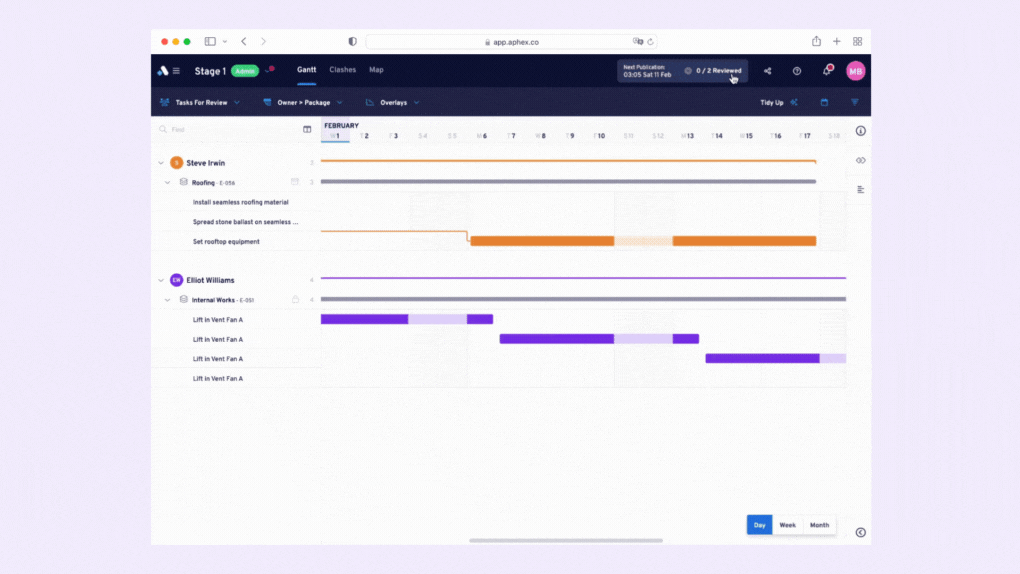 1 - Set a Reviewer
If you need a senior or manager to review and approve plans, you can now set one user as another person's Reviewer. The Reviewer is in charge of validating that plans are ready before the weekly deadline.

Ideal for projects wanting an additional layer of verification before publishing, or even for teams needing to mark an absent user's plan ready on behalf.


2 - Tasks for Review Space
To keep a close eye on any plans that need your approval, you can open the new 'Tasks for Review' space. You'll only find work in this space if the users you are the reviewer for own tasks inside the lookahead period.
3 - Publication Summary Table
If you've got a big project with lots of moving parts, you might be cautious about keeping track of the state of everyone's plans.

So, for a holistic image of all plans in the project, the Publication Summary Table now indicates:
Who's plans need reviewing
Who's responsible for reviewing them
If the plans have been approved yet


New Project Onboarding + CSV Import
Joining or creating a project for the first time shouldn't turn into a game of click-everything-until-something-happens, so we've introduced a guided project onboarding experience.
Now, everyone who joins your team or creates their own project can hit the ground running, without worrying about the basics.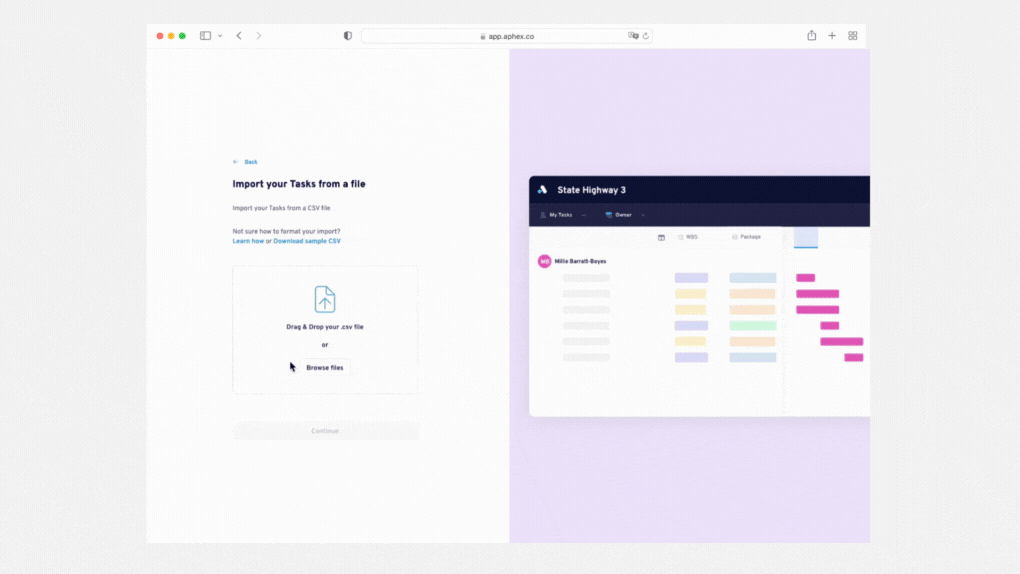 1 - Guided Project Onboarding
New users will now be equipped with a basic understanding of how to navigate around a project so they can start contributing right away. First-time users will be led through:
Adding Tasks

Opening columns

Switching between structures

Changing Spaces
All before they even land on the Gantt!


Returning users, or users who are managing instead of creating plans, have the option to skip the tour.
2 - CSV Import (and copy-paste)
For users wanting to move their planning to Aphex, we now provide an easy way to migrate data from spreadsheets or other tools into their project.
The migration tool allows you to import tasks with these basic properties through either a CSV upload or a direct copy-paste action:
Task Name
Start Date
End Date
Shift
Package
Subcontractor

This feature is currently available for new projects only but will be coming soon to all projects 🤫
WBS Improvements
We're no strangers to the trouble many of you were having with managing your WBS, so we've made it heaps easier to view and edit the existing tree, and create new structures.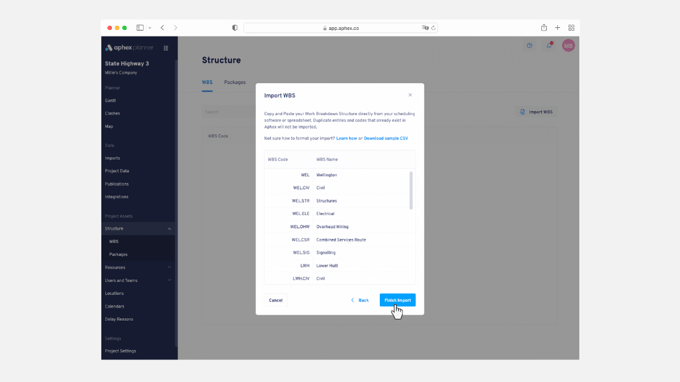 1 -
New WBS Controls
The WBS controls now appear when you hover a row. You'll know exactly what you're moving and where it's heading.
2 - Import WBS from CSV (or copy-paste)
For those of you wanting your Aphex WBS to follow an external Work Breakdown Structure, the new WBS importer allows the WBS to be created from a CSV or any spreadsheet format.

No further need to connect your Master Schedule to your project just to build the WBS!
3 - Save Changes
To keep changes to the WBS neat and tidy, you'll now need to indicate when you're ready to save your changes.
Notification Preferences + Project Routine Settings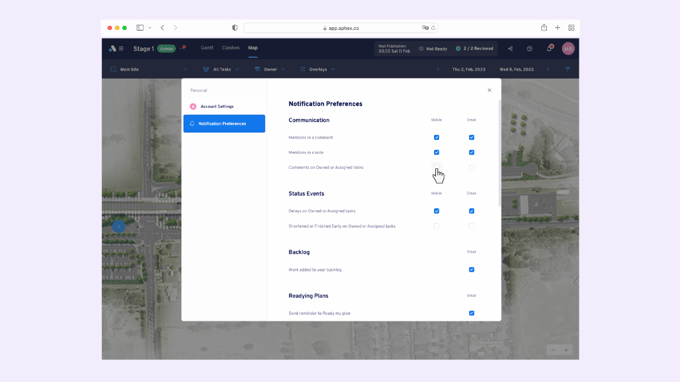 1 -
Notification Preferences
For the first time ever, you have control over what type of project notifications you receive. Maybe you're only interested in the latest Published Version, but don't want to be bothered with task updates!
2 -
Project Routine Settings
The project routine settings have moved to their own menu, and have been simplified to make it as straightforward as possible to configure your publishing routine.
You can now set the deadline in your preferred timezone, and turn off the routine if you're taking a break from your regular planning cycle.